More about the team behind I AM a warrior: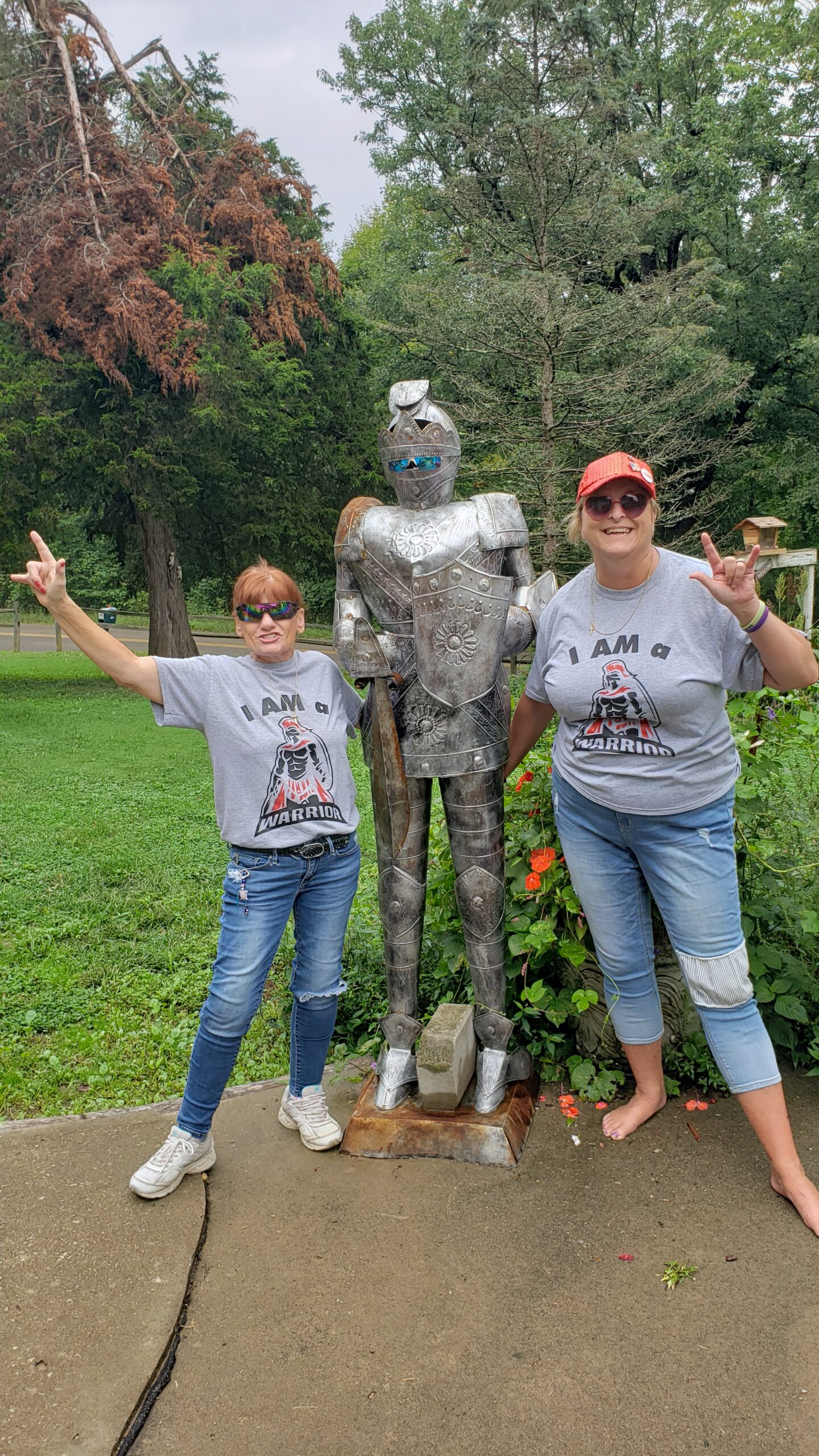 I am Beth Ingram and I was raised in the Lutheran faith.

In the past a family friend's son had committed suicide – and that's when I decided (with GOD's help) that I had to do something. That's when I AM a warrior against suicide came to be.

Our goal is to put signs at every school nationwide displaying the national suicide prevention phone number 1-800-273-TALK and 741741, their number to text. These numbers are not typically displayed together for the public to see in an easily accessible, permanent basis.

My dream also includes a sign outside The White House and The Statue Of Liberty. I started my dream by going directly to the superintendent of each school to get their permission to allow signs and initially it was tough. I then established my I AM a warrior charity with the Muskingum County Foundation.

We finally got our first sign displayed at Maysville High School – and we now have them at every High School in Muskingum County, Ohio. Other districts now want the signs for their middle and elementary schools (I have 10 such schools on the waiting list; waiting on money to provide). The Muskingum County Coalition has paid for five of the signs and I AM a warrior has funded the rest through donations from the community.

To extend our reach as far as possible and to help as many as we can I AM a warrior needs funds and support. We just launched our newly created website IAMawarrior.us – there you can find many ways to contribute both financially and through other means of supporting the cause.

I go into schools and pass out suicide prevention info and I need the support of more warriors to contact their school superintendents to get permission for signs in these new locations to get the permission approval of the Coalition to find these new signs.

I have been in our local Veteran's parade promotion I AM a warrior against suicide with a banner displaying the national suicide prevention hotline number (1-800-273-TALK and 4 Hope text 741741) and our local United Way has stated that calls from Muskingum County from the nationwide number of doubled since our signs have appeared – and that was before the corona virus pandemic had appeared.

I have business cards that I give out daily to businesses, hospitals and everywhere else I travel to anyone who will pass on the message of hope – the nationwide numbers.

I am sounding the battlecry!! We have all been touched by suicide – A family member, your neighbor.. or that familiar face you may have passed once in the hallway. As of Nov. 2019 suicide is the number one leading cause of death in children 10 years to 24 years of age and over 3,000 attempts per day in high school. Please do not be one that sees and hears and does nothing. I know the odds look to be against us – We must unite in this war to fight this epidemic called suicide. Otherwise all of the innocents who have lost their lives in this battle will have died in vain.

We must continue to press forward and together we can spread hope to those who are sitting in darkness, anxiety, anguish, depression and the loss of hope to live another day.

Thank you for your time and your support.

Beth Ingram
I AM a warrior against suicide.
Become A
Hero:
Warrior:
Supporter: